I tried a new variety of fruit the other day! I saw it at the grocery store and thought,
"What is THAT??? I should try it!"
So I did! I
t's called a
rambutan,
which basically means "hairy" in Malay, and this makes perfect sense upon glimpsing the rind of this unusual little fruit.
After reading a little bit about them on the internet
, I learned that they are grown far, far away from my native Utah, typically on the Southeast Asian side of the world. Here in the U.S., they may be an exotic sight. But in many cultures, they are as ubiquitous a food as an apple is to us.
They sure are beautiful, fresh, on the tree!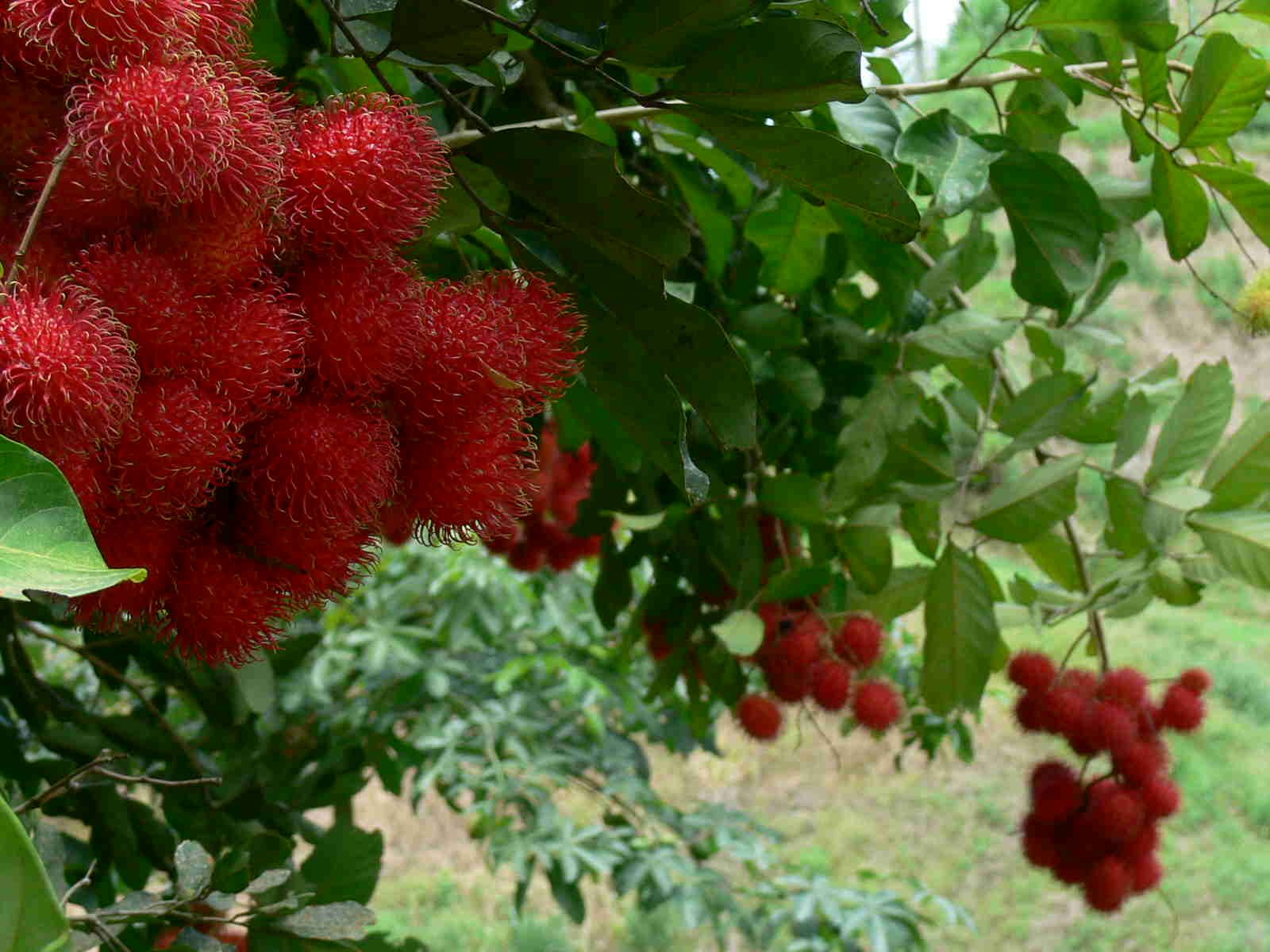 To reveal the edible inside, I began by using a sharp knife and cutting around the soft-spined outer shell. Here is what I discovered: a milky-white, pearl-like, fruit-flesh. I took a nibble... It had a chewy consistency. And the flavor... Mild, quite mild.
It reminded me slightly of the taste of raw coconut.
Probably the easiest way of putting it is this: eating rambutan is kind of like eating a large grape, but without the extreme sweetness and juiciness of a grape.
And do you know what else? There really wasn't much flesh to eat, what with the big ol' gray pit I found in the center! I ate around it. And it looks like that was a good thing to do because from what I read about the rambutan, the pit is bitter and potentially poisonous.
So...

don't eat the pit!
Rambutan also appear to have some
useful nutrition factoids.
I read that they are a quality source of

calcium, magnesium, potassium, sodium, and phosphorus.
It was a strange experience, the rambutan.
I didn't love it, but I didn't hate it either.
The taste was so indistinct and the texture so... somewhat gummy, I don't know quite what to make of it. In all fairness I may have selected a past-its-prime piece, in which case that may explain the so-little-flavor and lack of moisture.
The web says to choose a rambutan that is bright red, its little spines devoid of any black color.
My rambutan was nearly
all
black before I even purchased it! Just look at my photos! Oh dear...
As of this moment, I don't feel a pull to consume any more of these exotic fruit. But I ought try rambutan again because maybe I still don't know what I'm truly missing--
maybe I just didn't select a good juicy one.
So when I decide to give rambutan a second chance, I'll be certain to write a follow-up.
Stay tuned!
:)